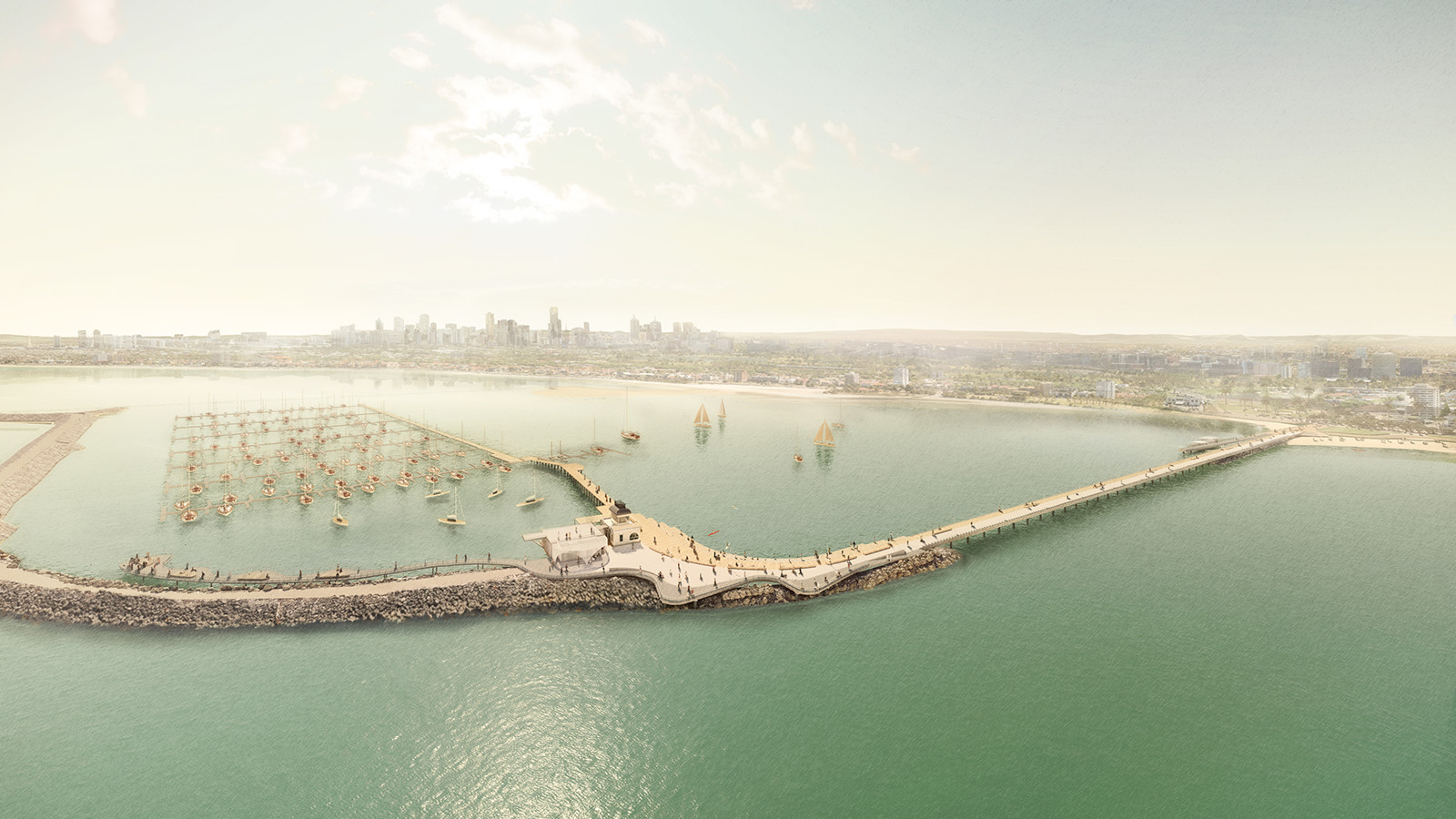 JCB, Site Office Landscape Architects and AW Maritime are reimagining the historic St Kilda Pier, one of Victoria's most visited and beloved locations.
"Working with Parks Victoria and a diverse range of stakeholders, the design team has crafted every single moment along the pier as an experience," explains Associate Director Veryan Curnow.
From relaxing with a cool drink, to sunbathing on the timber decking, fishing, catching the ferry or an evening glimpse of the Little Penguins waddling back to their burrows, the new Pier will remain an iconic space for the community.
"I'm thrilled to see JCB's and Site Office's long St Kilda journey coming to fruition through the new pier," says Director Graham Burrows. "We've been involved in the precinct's evolution since completing the master plan back in 2007, so its incredibly exciting to see the new pier design coming to life.
"In addition to this, Tim, Jon and I couldn't be prouder of the way the project team has worked together and collaborated remotely to deliver this outcome through all of this year's challenges and unknowns."
The redevelopment will provide increased leisure and recreational activities, while acknowledging the historical piers that came before it dating to the 1850s and its heritage connections to the St Kilda Pier Kiosk.
One of the project's core aims is to protect the Little Penguins who call the breakwater home. New platforms enable visitors to view them in close proximity, while preserving their habitats and those of the rakali native water-rats who co-exist together.
The new Pier and Penguin Platform are almost 600 metres in length, comparable to the St Kilda Foreshore Promenade jointly delivered by JCB and Site Office. By crafting this added public realm and rotating it out to sea, the local community along with interstate and international visitors can enjoy more of what makes St Kilda Beach such a unique destination.
Designed for the next half a century, the new pier will help reduce the impacts of climate change. It imperceptibly rises in height as you travel its length, making it more resilient to rising sea levels, while the wave wall is designed to respond to wave and climate change modelling and seeks to protect visitors.
JCB thanks and congratulates all involved in the journey so far, particularly given the difficulty of delivering such a diverse and complex project through two stages of lockdown via remote and online consultation.