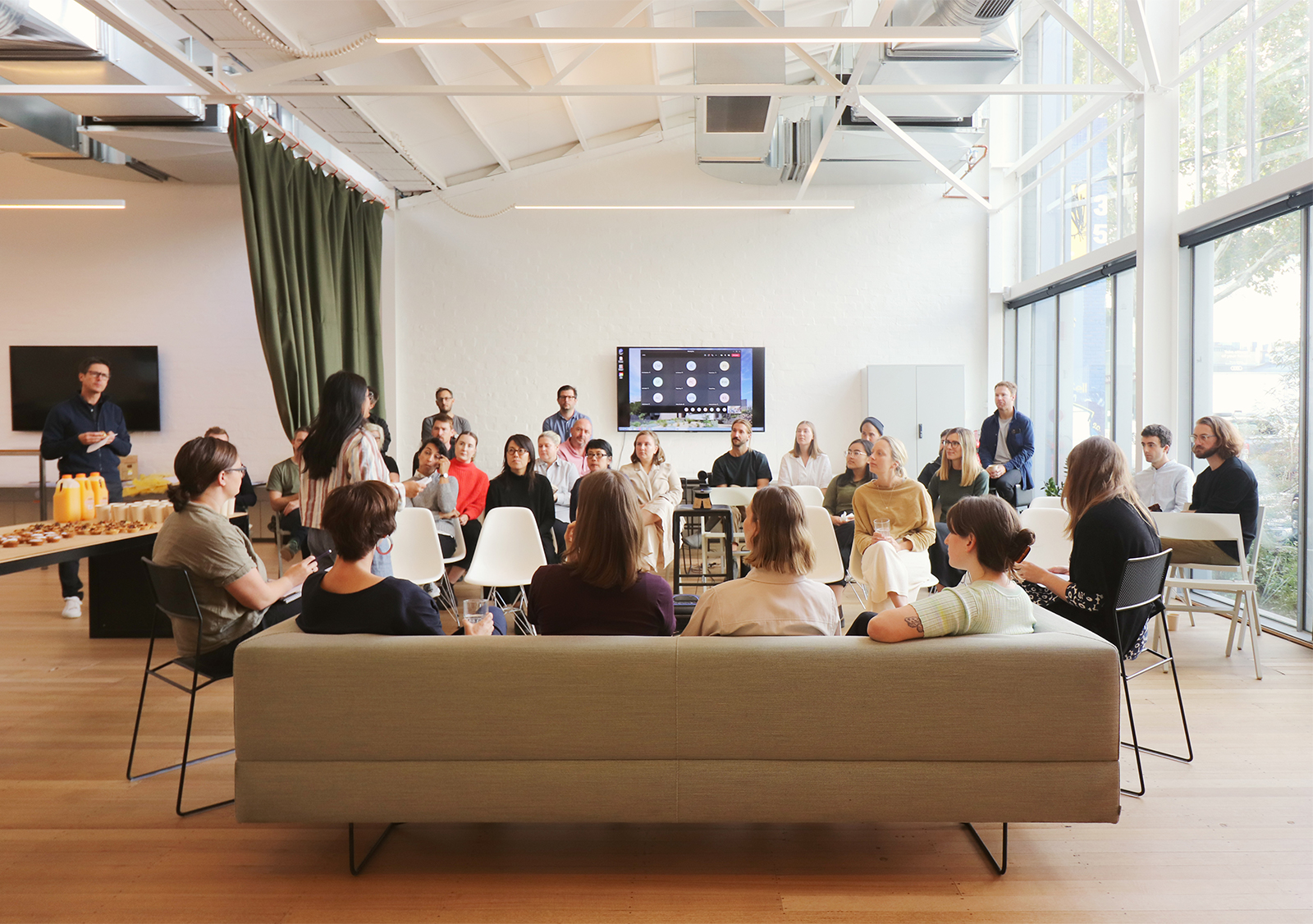 To celebrate International Women's Day and Women's History Month, the JCB team enjoyed learning from some of our female voices as they reflected on their careers and responded to national and global themes.
Organised by Associate Danielle Pacella and Architect Fenina Acance, the panel session on 9 March explored the IWD21 theme, 'Choose to Challenge' (which recognises that a challenged world is an alert world – and from challenge comes change) and the UN Women theme: 'Women in Leadership: Achieving an equal future in a COVID-19 world'.
The panel, moderated by Sarah Lynn Rees and Bridget Nathan, recognised the diversity of women within JCB – working across sectors and disciplines, at different stages in their careers, and who've been with the practice for varying lengths of time.
The session embodied our own interpretation of #choosetochallenge as we explored what this word means to us as individuals, not only in our careers, but our everyday lives. Following are some discussion highlights.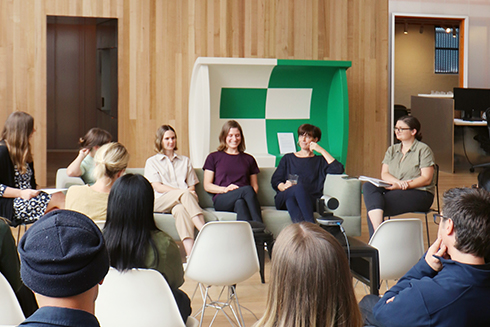 Bridget: What made you interested to study and work in your design field?
Hanah: For me it was a happy accident that came out of some practical decision making. I was attracted to architecture because I wanted to work in a creative industry but also have a career with a certain level of job security.
Tess: I started out in the science industry from school and then first year of uni. Realised it maybe wasn't for me so changed to the architecture degree. I completed the undergrad degree and then moved to Europe and The Netherlands to travel and work for a year. Over there I was at a studio with equal focus on architecture and interior design and found a passion for interiors. When I returned to Melbourne, I completed my interior design degree.
Saba: Like Hanah, I think I fell into architecture accidentally. I flipped through the university handbook and liked that architecture offered a crossover between the creative and the pragmatic.
Veryan: My father was an architect and I was always excited by the ideas and concepts he'd share with me. I have happy childhood memories of driving around together, exploring and discussing buildings. This ignited my curiosity and a lifelong love of spaces and the way they make people feel.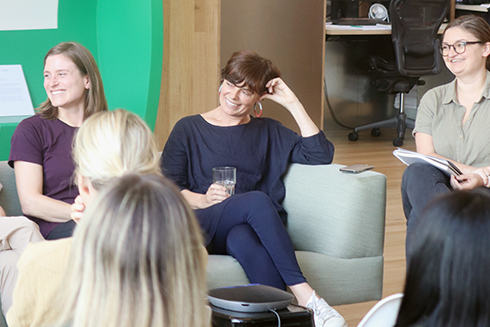 Sarah: How has your relationship with your career changed over time?
Veryan: I never could have anticipated how hard you'd work as an architect – it started at uni and continues to this day! Personally, it's been inspiring to see the positive progression at JCB over the years. When I joined, there were two female architects but today we have gender parity and a much clearer understanding of ways to support women's career progression.
Hanah: Entering the workforce after university was a huge learning curve and a shock to the system. I learnt so much from watching experienced architects fight for design solutions with confidence and tenacity. I'm continuously trying to grow my confidence in that way and improve my ability to rise up against challenges as a woman in our profession.
Bridget: Thinking about 'Choose to Challenge', do you feel you've challenged yourself in your career or life in general?
Saba: I'm constantly challenging myself, finding my way and becoming more and more confident in my abilities and decision-making.
Tess: I like to push myself out of my comfort zone and am a big believer in expanding knowledge and skill sets continuously. A learner for life.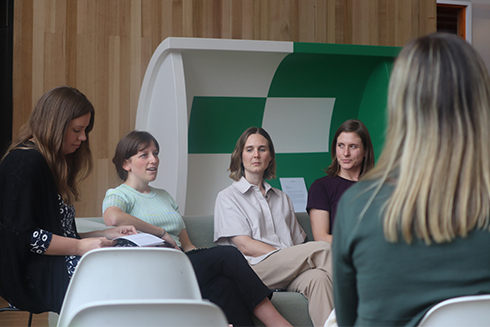 Sarah: What advice would you give to your younger self?
Hanah: Don't fall back on those 'qualities' you were taught your whole life are valued in women – being likeable, polite and overly adaptable won't get you to where you want to be. Find your own voice and passion and don't shy away from using it.
Saba: That there's ways to put your point across without being aggressive. You can ask more and the right type of questions.
Tess: Slow down… there's no rush and you should enjoy the journey along the way.
Veryan: Have no regrets and live life to the max. If you decide to have a family (which I did), know that although it's incredibly rewarding, it's also incredibly challenging to juggle career and family. As you move from university life to practice, remain curious and inquisitive, travel as much as you can and dare to be experimental in those formative years.
---
Meet our moderators & panellists

Veryan Curnow: Veryan approaches architecture with energy and rigour, placing emphasis on place making, social sustainability and positive community outcomes. As Associate Director and leader of JCB's Public sector, she's passionate about uncovering project opportunities through research and collaborative design. She's committed to the recognition of Indigenous Australia through architecture and design, and meaningful engagement with Traditional Owners and Indigenous communities.

Saba Komarzynski: Saba balances practicality with a desire to create spaces and places that enrich our daily lives primarily in the commercial and education sectors. An Associate at JCB with 15 years' experience, she's passionate about sustainability and a strong advocate within the practice for ESD principles and innovations that address our changing climate.

Bridget Nathan: An architect working in JCB's public and education spaces, Bridget is passionate about achieving resolved design outcomes that embody the needs and perspectives of a variety of users. With a Bachelor in Design, Interior Design and a Master of Architecture, She's also the founder of The Doyenne Interviews, an independent podcast that speaks to inspiring women from the art, architecture and design world. It explores how they've achieved success in their careers and personal lives within their chosen creative fields.
Sarah Lynn Rees: Sarah is a Palawa woman descending from the Plangermaireener and Trawlwoolway people of north-east Tasmania. She's a Lecturer at Monash University, practices architecture at JCB where she's also Lead Indigenous Advisor: Architecture and Design, is program advisor and curator of the BLAKitecture series for MPavilion, a Director of Parlour: Women, Equity, Architecture, and a member of the Victorian Design Review Panel for the OVGA and Co-Chair of the AIA First Nations Advisory Working Group.
Hanah Wexler: An architect with 8 years' experience, Hanah is committed to creating functional, beautiful and considered design solutions. Working within JCB's residential and public sectors, she's passionate about how architecture makes you feel and how it shapes your daily rituals. Having recently delivered Divided House in Richmond with Jon Clements, Hanah also focuses on tactile moments that enrich your experience and memory of place.

Tess Wrigley: Senior Interior Designer Tess combines a passion for interior design with a dedication to helping clients achieve the best possible outcomes. Cognisant of how the built environment impacts emotion and behaviour, she strives to create spaces that are not only elegant but also thoughtful, functional and sustainable.