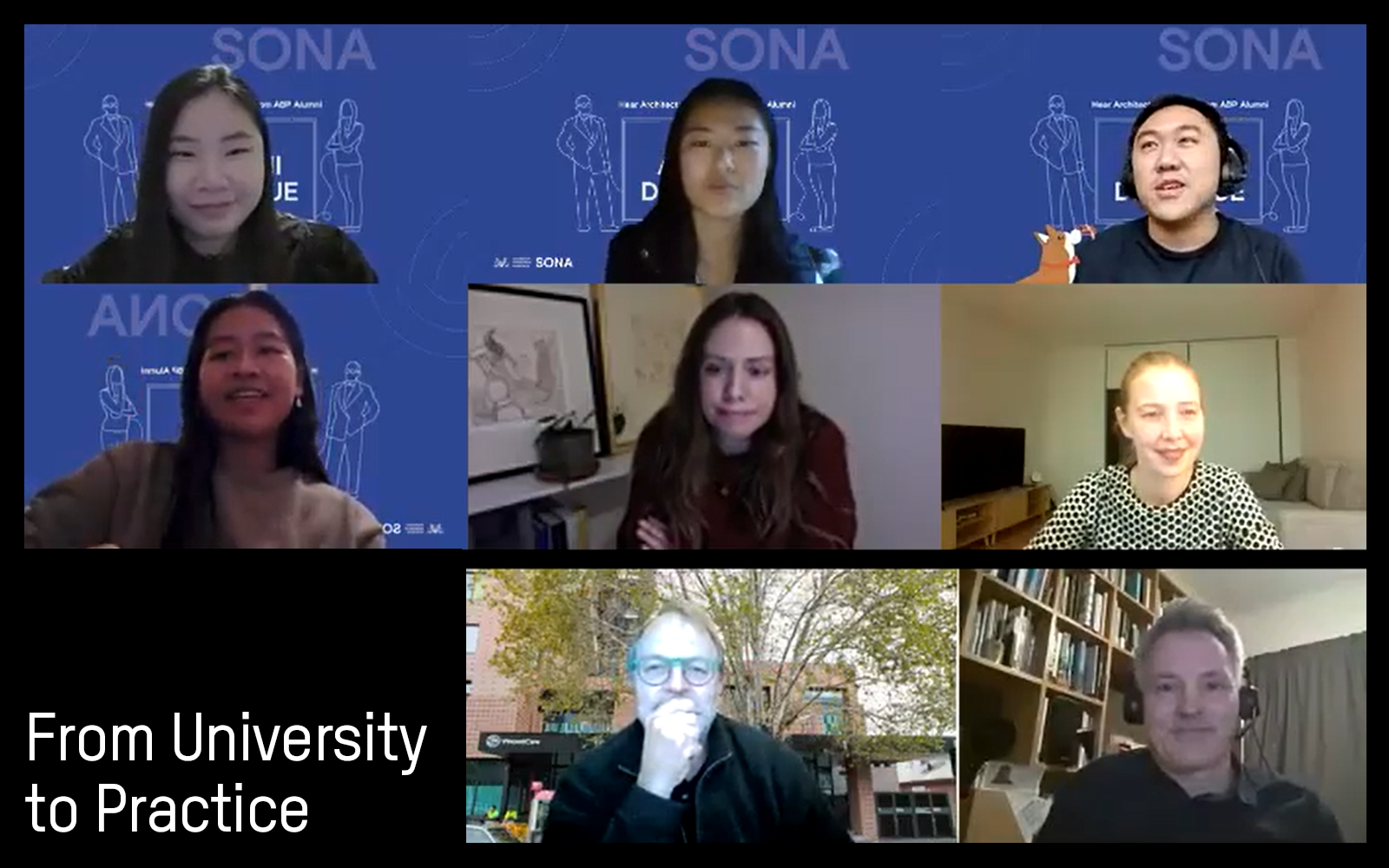 Bridget Nathan recently joined a panel of University of Melbourne architecture alumni to share experiences, stories and advice about finding a first job, building networks and transitioning into the industry after university life.

An architect at JCB in the education and public space and founder of the Doyenne Interviews, Bridget spoke at the 'From University to Practice' virtual event alongside Rob McGauran (MGS Architects), Marina Carroll (Architectus) and Stefan Mee (John Wardle Architects).
Following Bridget shares her top three takeaways from the panel discussion and questions asked by the architecture and design student attendees.
1. Digital perception shapes in-person impression
We were asked how we'd communicate to a potential employer 'who we are' in only five minutes. The panel discussion revolved around factors that make a good first impression and positive connection such as having a pretty good knowledge of your potential employer's work, and who the practice is from a cultural and design ethos perspective.
In this digital era, it's about creating a dynamic digital impression. This is primarily through a portfolio and happens before a candidate has even crossed a physical or virtual threshold. You have an excellent opportunity to communicate your passion and drivers to an employer, as well as understand who they are and why you're keen to work there. And ensure your digital footprint reflects who you are on your own social media.
I think it's also about researching who the practice is in the digital world. Things such as typography on a website, language and tone describing their projects and their people, social posts and media articles can all tell you a lot about the practice and its 'why' – and if it aligns with your own values and design approach.
2. Aligning interests/goals personally and professionally
The panel highlighted that a portfolio is invaluable to communicate not only skills as a graduate, but also who you are and what your passions are, and to articulate what it is about the company that you admire. This would enable a potential employer to see how you could value add to their company, so if you can demonstrate an alignment with their core creative design outlook this could be a good starting point.
We're lucky in Melbourne to be blessed with a rich variety of architecture and design practices. It was interesting to hear from the panellists about their experiences – both past and present – that have shaped their careers. To help narrow down a list of practices, try out a specific sector niche, look to work for a practice that uses design technology that you enjoy, or perhaps refer to buildings you've seen that you admired and have a gut feeling that says, 'this is something that inspires me'.
3. Reframing failure and being a learner for life
The panel discussed the importance of reframing failure, which is also an idea that author Simon Sinek recently explored, suggesting we reframe failure to falling. For graduates it's a constant learning process, often guided by those who can show you the ropes. I think over the last 20 months, so many things have shifted and continue to evolve that we're all in a place of 'first time experience', especially in the ways we communicate and collaborate.
As designers, we constantly strive for the best outcomes, but having a sense of resilience – maybe even humility – around our learning processes is common advice that I hear from industry figures. The ability to fall and get right back up again and have another go is also something we spoke about at the SONA event.
Personally, I think graduates will bring invaluable technology knowledge and reverse mentoring to their future workplaces, and although it's a challenging time for students, they will have experienced something that can positively shape their careers and creative outlook.
---
This event was organised by the Student Organised Network for Architecture (SONA), a body of the Australian Institute of Architects Victorian Chapter, in partnership with the University of Melbourne.
Thank you to the SONA committee members: Wendy Lin, Kester Cheong, Sandra Lin, Chenxi Wang and Heidi Tay for inviting JCB to be part of this event.