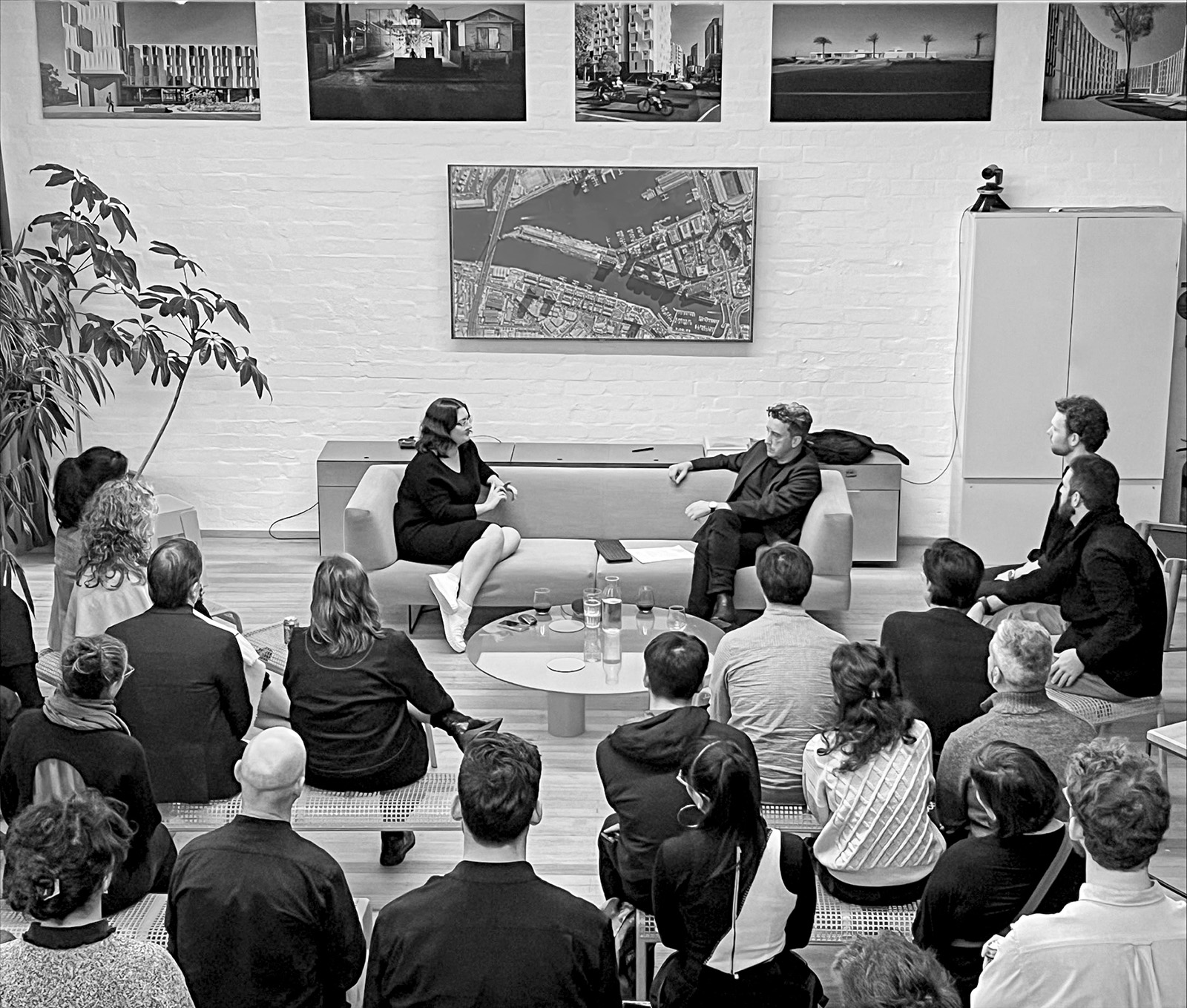 On Tuesday 30 May, in celebration of National Reconciliation Week, Mark Jacques (OPENWORK) and Sarah Lynn Rees (JCB) met in the JCB studio to share stories about working together to create projects that embed and reflect Country. The pair have collaborated on seven projects since 2020, including the Victorian Family Violence Memorial (with Muir), which won the Kevin Borland Award for Small Project Architecture at the 2023 Victorian Architecture Awards.
Using their current collaboration on Collins Wharf as an example, Sarah and Mark's conversation provided insight into how an understanding of Country can, in Mark's words: "change our behaviours as designers, and lead to a demonstrable shift in the way we work".
"(These ideas about Country) give us another vocabulary and give us permission to move beyond the default response to site. They give us a way through the orthodox, the expected and the repeat gestures that are so often part of the commercial process of architecture and landscape architecture. Toward another language that reconciles the idea of Country with the necessity to intervene in or change a landscape. This ensures Country is embedded in place and not applied."
The pair began with explanation of why they love working together. Mark recounted: "The first time Openwork worked with Sarah there was a lunch after a site visit. At the beginning of the lunch, the project had pre-cast paving. At the end of the lunch, the paving wasn't paving anymore but instead held the physical matter of the Country that sat under it. It held manna gum leaves that might have grown nearby. It held ashes of the same leaves burnt for smoking and held for the memory of cleansing the site".
Sarah spoke about design conversations that evolved over time: "Yarning comes first, the sketch comes later. Mark has the wonderful ability to sit in a grey space for a while, explore complex and competing agendas and hold all of this in his heart and mind to bring new ideas to life".
The pair then walked through the design journey of Collins Wharf, and their desire to create a new type of urban park, unlike the existing public spaces in the area. A space that talks to an idea of place and the history of site, rejecting the practice of erasure. A "home for all living things", specifically animals, insects, birds, plants, water, wind and people.
Sarah presented a series of slides mapping Dockland's ecology through historical maps and images: a swampy grassland, the historical pathways of the river, an enormous lagoon, dense tea-tree forest, spiky plants, an incredibly windy site. It was a process of "design by investigation", paring back decades of human interventions and engineering. She discussed giving Country the capacity to have a hand in the authorship of design through responding to the site's natural systems and research into Indigenous plants according to the seven Wurundjeri seasons, creating an ever-rolling wave of plants in bloom. Mark discussed constraints associated with lighting requirements and the prescribed width of waterside promenades.
The design evolved through engagement with Wurundjeri Woi-wurrung Elders with the working with Ross Harding of Finding Infinity: a vision shaped by the desire to create a home for water, plants, earth, fauna, and people. Materials such as recycled pier timbers, recycled pilings, steel captured concentre from adjacent building sites and ruins from the wharf found their way into the design, along with extensive rainwater capture systems. The design is currently with the City of Melbourne awaiting approval. We look forward to seeing its next steps.
Key takeaways:
There is a variety of public information available to increase site understanding of Country.
Conceptual design processes linked to both site and Country can be creative, enriching ways to increase awareness of other unrealised design opportunities.
It is our responsibility to undertake site analysis about Country and bring this research, along with creative possibility into engagement processes with Traditional Custodians.