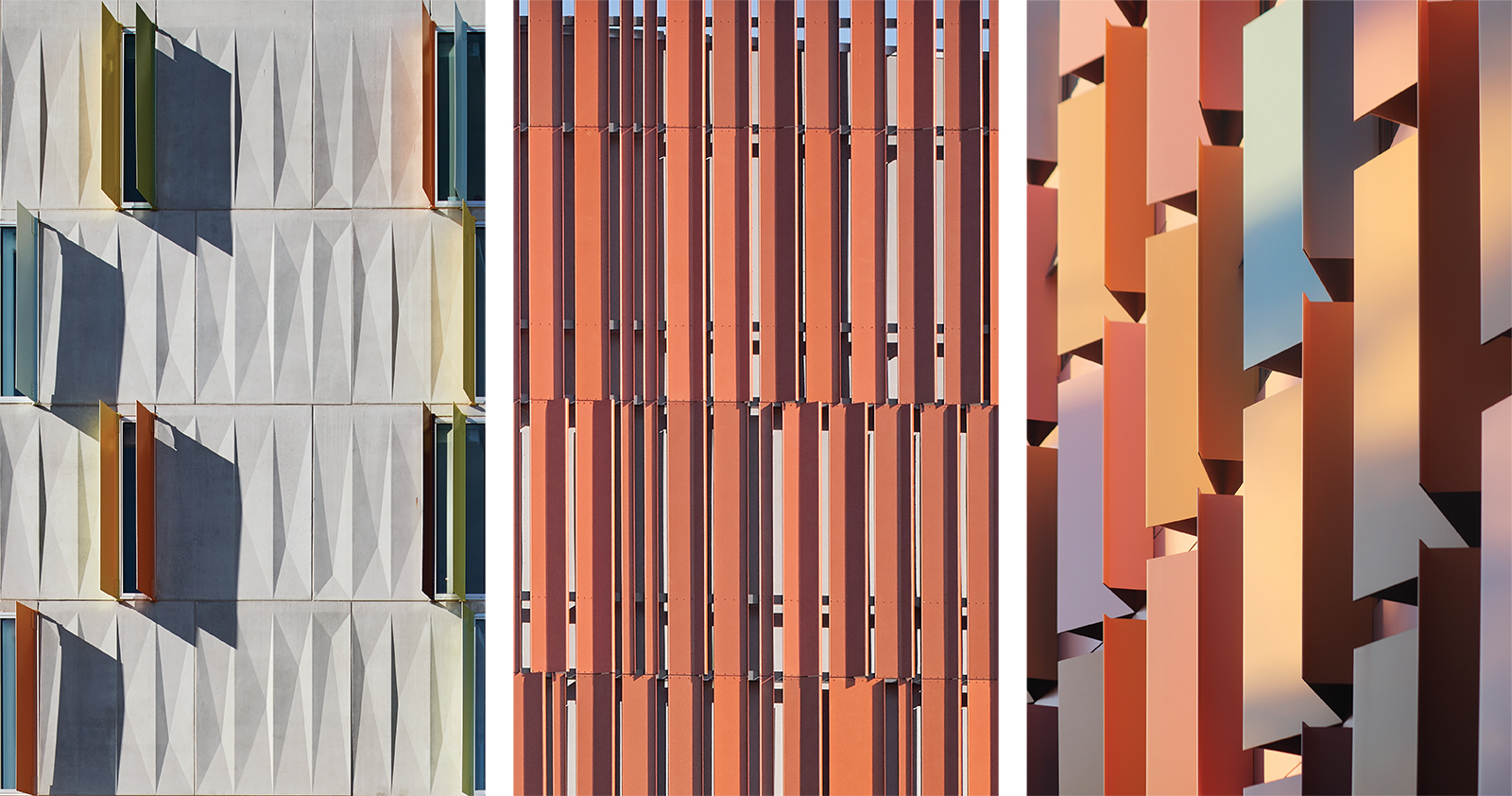 The last several years have seen an exciting evolution of on-campus student living at Melbourne universities. These communities bring people together from across Australia and around the globe to create diverse and vibrant living and learning environments. They also empower individuals to flourish in their academic and personal lives, form meaningful connections and feel safe and supported while away from home, many for the first time.
"Over recent years, JCB has designed three award-winning student living developments that celebrate student life, embed wellbeing, sustainability and accessibility and that create vibrant, joyful architecture that adds vitality to their respective campuses," says Director Graham Burrows.
"Through each one, our knowledge base and understanding continues to grow. From fast tracked delivery and early contractor involvement to innovative, low carbon construction, we're continuously evolving our approach to this unique design typology for universities."
Graham has identified some key success factors for the design and delivery of on-campus student accommodation. Firstly, he says student experience is paramount. The design framework must consider subtle variations of pastoral care models while recognising the inherent value of incidental interaction for socialisation, knowledge sharing and creating a sense of community.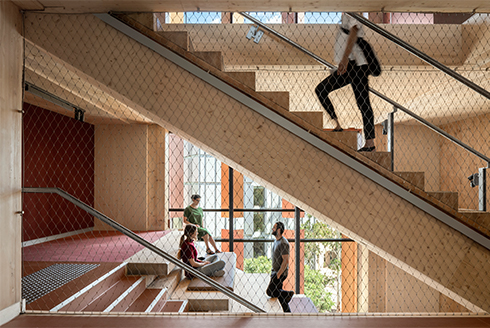 Providing choice is another important consideration and each of JCB's projects incorporates a variety of common spaces, including indoor/outdoor living and learning spaces. This enables students to collaborate, socialise or concentrate where and when they want.
"In our most recent project for La Trobe University, we further evolved the concept of choice into the accommodation options," explains Graham. "Beyond a series of uniform studios, we designed a variety of single rooms and mini apartments. This diversifies the offer for students, with different price points and social interaction preferences catered for. It's their choice to have more private accommodation or the camaraderie of a mini-apartment, like a 'share house' experience on campus."
Keep reading for more behind the design of each of these student living projects.

Monash University Turner Hall, 2015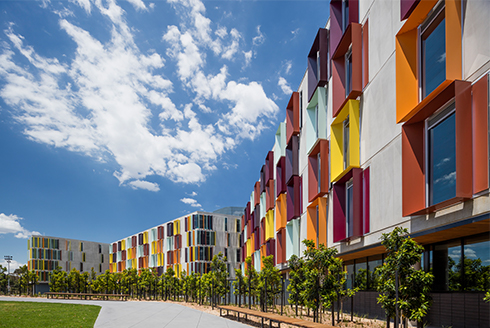 Featuring 250 studio apartments, common areas and support spaces, Turner Hall richly celebrates the idea of on-campus student communities. This translates as a building wrapping itself around a landscaped courtyard with ground floor spaces spilling outside to create open, activated communal areas.
Each residential floor has two wings of around 30 rooms and a lounge where smaller groups of students can gather. Our experience shows that a neighbourhood cohort of 30 students is optimal for community building.
The bold, extroverted facade is festooned with a study in colour across the array of window shades. These leaf-like metal blades on the north and west elevations provide crucial shading with minimal compromise to vista. The playful and engaging nature of the building finishes are designed to create a space that Clayton campus students enjoy coming home to and are proud to live in.

Monash University Gillies Hall, 2019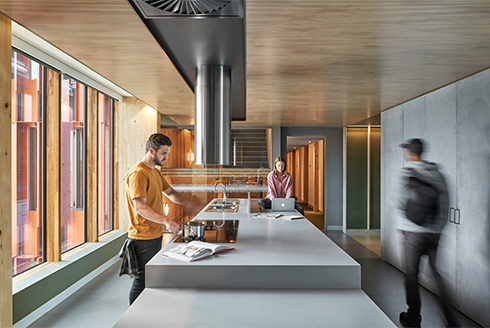 Comprising 150 student beds in the form of studio apartments, two apartments for residential support, and ground-floor common spaces supporting the whole campus residential community, Gillies Hall wears its green credentials proudly.
A bold new addition located at the highest point of the Peninsula campus, it has achieved some impressive firsts for low energy buildings in Australia – it was the largest Passive House Certified (PHC) building in the southern hemisphere and Australia's first student accommodation built to PHC standard. It's also one of Australia's largest cross laminated timber (CLT) buildings that also achieves PHC, and the use of CLT panels halved the embodied carbon compared with typical concrete construction.
The project further builds upon Monash University's model of pastoral care that was explored during Turner Hall. For Gillies Hall, this included placing communal kitchens directly outside lifts on each floor to increase incidental bump factors and to celebrate the warmth of the exposed CLT structure and natural materials.
Architecturally, the project is an outward expression of the University's aspirations for the future development of the Peninsula campus. The facade's folds and cut-outs are both functional and poetic, providing shading whilst referencing the surrounding campus context of rich foliage, bold orange of burnt Australian earth and the red brick tones of the low rise 1960s and 1970s on-campus buildings.

La Trobe University Student Accommodation, 2020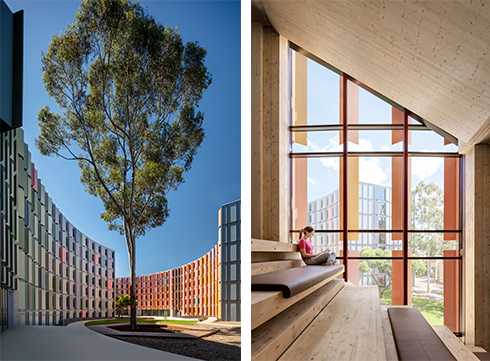 Offering diversity of accommodation choice, this 624-bed student living development is one of the largest mass timber projects in Australia by volume, utilising 4500 cubic metres of Cross Laminated and GluLam timber. It also forms part of La Trobe's ambitious plan to transform its Bundoora campus into a University City of the Future.
The design aims to foster residential life and campus communities by reducing a large-scale development into finer grain experiences and a warm and people-centric solution. All floors are connected by a dramatic vertical street where circulation and socialising all interact in a wonderfully chaotic and unplanned way.
The buildings form two sweeping arcs, creating strong edges to the campus 'street' network and a large central 'private' courtyard space. A transparent glazed curtain wall for communal spaces and continuous perimeter seating encourages students to informally sit, gather and engage with the buildings and broader campus. Inside, a central core rising like a vertical street through the building, balancing two equally loaded wings on a typical floorplate, promoting chance encounters and communal gathering between students.
A considered palette applied to the facade and interior spaces references the macro to micro of the site's indigenous landscape, respecting its Australian bush campus context. The colour spectrum indicates a progression from the whites, silver and greys of the surrounding eucalypt trunks to the vibrant colours found in the details – greens, pinks and reds in the gum leaves, and burnt oranges in the bark fissures.